All the Chiquita bananas you will every need in Changinola.
A banana boat song I would sing when we ever had district meetings always cracked us up.
It was

Day-o, Day-o Daylight come and me wan' go home.... Come, mister tally man, tally me banana, Daylight come and me

wan' go home...

.

I have had a few times where laughed as I imagined my great-grandfather as he sailed over from Puerto Rico to New York City on a banana boat. I am so grateful to have served in this area and will miss banana land very much. I am now leaving the banana fields and heading to the mountains.
On Splits!
Yesterday I said goodbye to Elder Amaya who was super cool. We had a lot of hobbies in common and there wasn't a free moment when we weren't talking. They actually closed my last area Almirante. Almirante has a few people planning on getting baptized, and luckily the branch knows the people. Elder Amaya will be close by along with Elder Lopez and they said they will go out to baptize them, so I think that's all under control.
I also had to say goodbye to the beautiful Changuinola where I have literally served half of my mission. This was kind of sad to say goodbye to but... I did get to move to somewhere nice where we actually have clean water AND A SHOWER. Literally, I got transferred from one of the poorest areas where the houses are sinking into the water to a tourist site. Almirante was also a tourist site and pass through town but the sites there were places we didn't get to see because they were all on the beach and well as missionaries, we can't go there.
I have been asked why I have not been sending pictures as of lately. Well, I've been working on that. I actually need to buy a new camera. The house we lived in got robbed in Almirante as well as getting trashed. The neighbors happened to see everything and knew who it was and so we reported it to the Police. I did not get my camera back and I don't know if they will ever find the guy. As well, in Changuinola there weren't cameras to buy but now that we are near the city of David, I should be able to get a camera there.
My new area Boquete or
Volcán
is amazing because you are up in the mountains. Elder Vela had told me about this area and mentioned that it was super dope. It is one of the only 'Cold' areas in all of Panama.
Volcán
was closed until recently and from what people have told me, we live on the top of a mountain so even when it is sunny, there is always a misty breeze coming our way. And at night you actually get to use a comforter!! YEAAA!
Info online from family: The town of Boquete (pronounced bow-keh-tay) is nestled in the highlands of the fertile province of Chiriquí in western Panama. It's a town of about 6,000 people and a retirement haven for expats looking for a simpler lifestyle. English is commonly spoken and many International Living readers have already relocated there. Boquete is a microcosm of bliss. Flowers of kaleidoscopic colors blanket the hills and towering mountains form breath-taking vistas. In the distance, you can see the stunning Volcán Barú rising up through the misty clouds while the Rio Caldera flows through the town, soothing residents and visitors with its gurgling sound. Because of its location in the mountains, Boquete enjoys a cool climate, and this draws Panamanians and expats alike to this gem. Due to the elevation, daytime temperatures are generally in the 70s F and 80s F, with cooler nights. The spring-like weather makes Boquete ideal for full-time residents and snow-birders alike.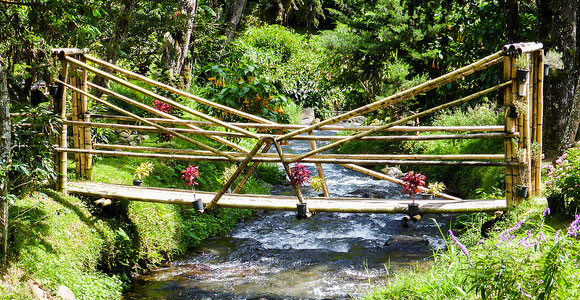 My new companion is Elder Nevas who is from Argentina. I met him when he was training my Dad (or what we call our first companion). He is super funny and although I don't know a whole lot about him I think this will be another great companionship. I will be able to tell you more next week. I left last night and just barely got here this morning so don't have to much to tell you yet.
To follow up on last weeks question: F
or whatever reason and for the 3rd time on my mission
,
people have thought that I looked like that chef guy from Ratatouille. But that's another story. I enjoyed the great guesses my family sent my way. (Mogli,
Aladdin, Prince Charming, Flynn Rider, Robin Hood, Stitch 626, Gaston, Kuzco, and Kronk).